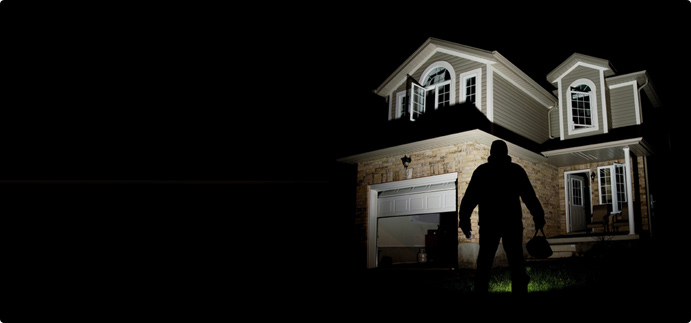 7 Home Security Tips
If you don't feel safe sleeping at home, if every bump in to the night makes you wonder what could be lurking in the darkness, you need to seek peace of mind. Your home should be a safe haven where you can relax and enjoy quality time with friends and family, not somewhere where you feel unsafe and threatened.
If you're feeling vulnerable at home, it may be a good idea to follow these home security tips:
1. Lock up
This may seem obvious, but you'd be surprised how many people go to bed or go out without locking all the doors and windows, especially in the summer months when it's hot and you tend to have windows and patio doors open during the day. If you have window locks, make sure you use them, as many thieves use windows to enter or exit a building, as they are often left open and they are sometimes easier to navigate than doors. Ensure you keep your keys somewhere safe that cannot be reached by opportunist burglars. It is common, for example, for thieves to remove car and house keys from by the front door by hooking them through the letterbox.
2. Call your local locksmith
Your local locksmith will likely be an expert in home security. It's important to lock your home up with the best quality locks to ensure optimum safety and security. An old or rusty lock sends a message to any potential intruders that the security in your home is inadequate. Invest in a quality, secure lock to be on the safe side. You can pick your locksmiths brain as they can tell you the weak spots in your home security.
3. Install an alarm
Alarms create a lot of noise when the house is disturbed, but they can also make a massive difference before a thief even sets foot on the premises. Alarms are a great deterrent and thieves are much less likely to try and break into a house which has a working alarm fitted.
4. Secure your garden
Many burglars seek access to the home through the garden, so try and take steps to secure your garden by using gates and fences and ensuring the back door is locked. Garden tools can be valuable too so do your best to make sure they are locked away.
5. Use security lights
Security lights are another effective deterrent and they help to warn burglars off your home and reduce the chances of a thief breaking in if they do come into your garden or set foot on the drive. Burglars are mostly opportunistic. Don't give them a glimmer of opportunity.
6. Secure the front door
Make sure your front and back doors have robust locks and a chain visible to any would be intruders. It's also a good idea to have a small glass peep hole so that you can see who is there before you open the door. By contacting your local locksmith they can install new high security locks at your home to increase your home security and deter thieves even easier.
7. Don't open the door to strangers
This again may seem like an obvious point, but the reality is that if somebody knocks on the door, most people go and open it without thinking twice. Sadly there are people out there who look to con their way into people's homes pretending to be from utility companies or charities, for example. Never invite anybody in from the doorstep and always check for badges and identification before you let somebody in; all utilities engineers and police officers should have ID on them. Any burglars staking an area out will look at the routines of the people they are targeting. If you stay vigilant and vary your daily routines as best as you can they will be more likely to stay away.
8. Lock valuables away
Valuables left in full view of passing thieves act as an instant incentive, so always ensure anything valuable is hidden from view and locked away. If you worry about crime where you live, you may want to insure any valuables. A quality safe which stores valuable goods or prized possessions will provide greater security. Your local locksmith will also be able to assist you with choosing the correct safe for your home.
9. Become part of the neighborhood watch
Neighborhood watch schemes can be really effective and even if there isn't one in your town or village, it's a good idea to get to know your neighbors, so that you can look out for them if they are away or there is suspicious behavior and vice versa.
[yuzo_related]